Slide
Slide
Slide
Slide
Slide
Slide
Press transfer systems designed for working between press columns or at front and back side of press regarding the structure of press which transfer operation will be made. This allows the system to work compatible with every type and brand of hydraulic transfer presses, eccentric transfer presses and servo transfer presses. Additionally complete line can be configurated with press feeding system and destacker separately or both together to work before the transfer system.
Various solutions can be offered for parts carriage between presses with Press Transfer Robots for press to press transfer operations.
Press Transfer Systems General Specifications
X axis maximum movement distance up to 1800mm
Y axis movement being defined depending on transfer press upright dimensions
Z axis maximum movement distance up to 350mm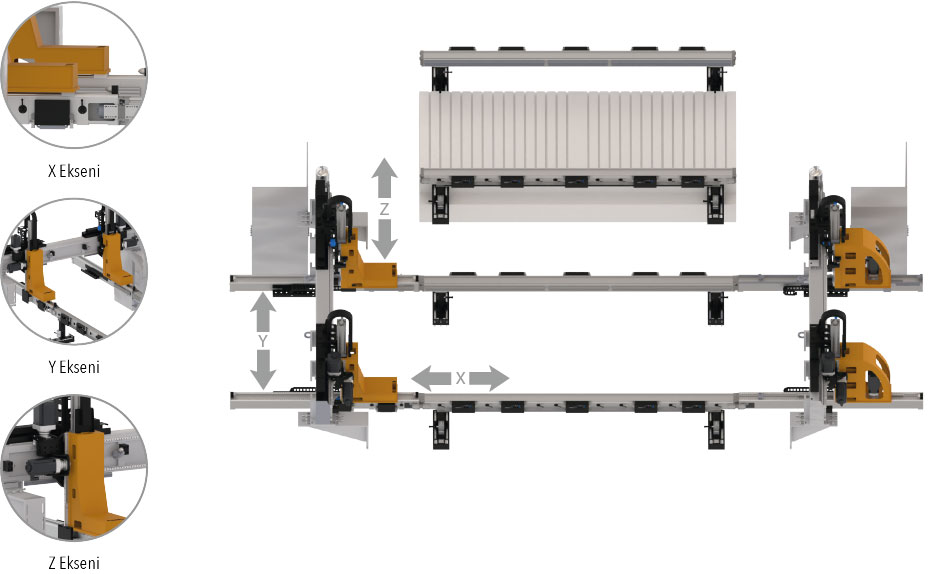 Transfer Bars Locking System
Transfer bars can be picked and droped automatically. This application can be done with pneumatic driven automatic locking system. During this operations also the air and electric connections being made automatically. With case-hardening steel guide structure all the operations being made as centered without any damage on the locking system. Additionally bars are not released with specially designed locking structure even at air cut.